Alexander B Bennett at 19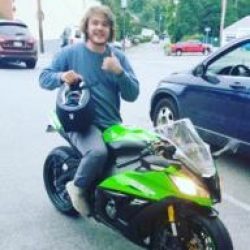 Alexander Benjamin Bennett, 19, of Holliston, passed away Monday, July 10th as a result of injuries sustained in a motorcycle accident. Born in Boston, he was the only child of Bethany (Nickerson) and Paul L. Bennett of Holliston.
Upon his 2016 graduation from the Welding Department at Keefe Tech in Framingham, Alex began an apprenticeship at PBD Productions in Hopedale where he worked for approximately 1 year. He was currently working at Century/Ty-Wood in Holliston. Alex enjoyed four-wheeling, dirt biking, BMX biking, motorcycles and off-roading in his jeep. He took pleasure in spending time with friends and family; especially operating tractors with his Uncle Mark and Uncle Patrick.
Besides his parents, Alex is survived by his maternal grandmother, Alice Frey of Medway; his aunts and uncles, Benny and Sandy Bennett of Medway, Richard and Carol Bennett of Edwards, CO, Dennis and Sue Nickerson of Medway, Peggy and Rob Brown of Pawtucket, RI, Mark Heavner of Holliston, Nancy and Steve Calvin of Medway, and Heidi Crimmins and Patrick Shay of Uxbridge. He also leaves behind many cousins, friends and his dogs, Beau and Yukon. He is predeceased by his paternal grandparents, Claire and Benjamin Bennett; and his aunts, Nancy McCarthy and Katherine Heavner.
Visitation will be held on Tuesday, July 18th from 4:00-7:00p.m. at the Chesmore Funeral Home of Holliston, 854 Washington St. www.ChesmoreFuneralHome.com A funeral service will be celebrated on Wednesday, July 19th at 10:00a.m. at First Congregational Church of Holliston. Burial will follow in St. Joseph's Cemetery in Medway. In lieu of flowers, donations may be made to International OCD Foundation PO Box 961029, Boston, MA 02196 or iodcf.org