Theresa C. Parnell at 86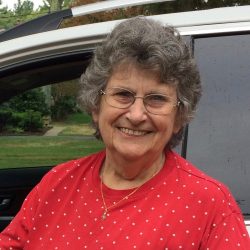 Theresa Catherine Parnell, 86, of Holliston, died suddenly on Thursday, November 2, 2017. Born in Somerville, she was the daughter of the late Anna (Cotter) and Jeremiah Mahoney.
Theresa was an accomplished quilter, knitter, and baker. She loved her sewing machine at the window overlooking David St. where she could watch her grandchildren play and keep up with the neighborhood. She also enjoyed knitting and crocheting, making treasured blankies, and so many hats and mittens. Baking was her specialty and she turned out the most delicious treats in her tiny kitchen, her Nana Cookies will be especially missed. Over the last several years she's enjoyed keeping up with NFL football, checking stats, reading injury reports and more so she could make good picks in her weekly football pool. Her greatest love of all was her family. As a mom and nana, she was a superstar. She retired from Digital Equipment Corporation, was a member of St. Mary's Church of Holliston for 52 years and was an active member of the Holliston Senior Center.
She is survived by her six children, Michael Parnell and fiancé Maureen Davis of Hopkinton, Gary Parnell and wife Debbie of Webster, Kathy Trombly and husband Wayne of Derry, NH, Nancy Askins of Orleans, Kevin Parnell and wife Annie of Holliston, and Stephen Parnell and wife Sandy of Holliston. She leaves behind 15 grandchildren and 15.8 great-grandchildren. Her four siblings, Daniel, Mary, Dorothy, and Francis; grandson Justin Parnell, and son-in-law William Askins predeceased her.
Visitation will be held on Monday, November 6th from 4:00-7:00 p.m. at the Chesmore Funeral Home of Holliston, 854 Washington St.(Rt. 16) www.ChesmoreFuneralHome.com A funeral mass will be celebrated on Tuesday, November 7th at 11:00a.m. at St. Mary's Church of Holliston. Burial will follow in St. Mary's Cemetery. In lieu of flowers, donations may be made to Holliston Senior Center, 150 Goulding St. Holliston, MA 01746