Patricia Julia Zack at 85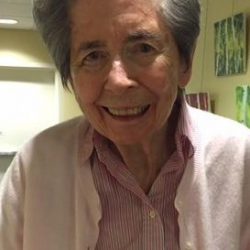 Patricia Julia Zack, 85, of Holliston, passed away Thursday, December 28, 2017 at Mt. Auburn Hospital in Cambridge. Born in New York City, NY, she was the daughter of the late Mary (Duggan) and James Cassidy. She was the wife of 35 years to the late Philip J. Zack who passed away in 1995.
A Holliston resident for 47 years, Pat was an active and much loved member of St. Mary's Church of Holliston. She was always giving of her time and service to the parish community. She was the Hospitality Coordinator for St. Mary's Women in God's Spirit (WINGS) Ministry, which is the church's women's faith formation group. Pat enjoyed her last year spent at Neville Place Assisted Living in Cambridge. She enjoyed walking, dancing, embroidery, and took pleasure in having lunch with her close friends and family.
She is survived by her three children, Barbara Zack of Boston, Paul Zack and his wife, Jennifer, of Tampa, FL, and Ken Zack of Pembroke Pines, FL. She also leaves behind her two brothers, Jim Cassidy and his wife, Joan, of Poughkeepsie, NY, and Bob Cassidy and his wife, Anne, of Blairstown, NJ; 6 grandchildren, Taylor, Ashley, and Callie Zack and P.J., Mirah, and Raina Zack; as well as many special friends.
There will be no visitation. A funeral mass will be celebrated on Friday, January 5th at 11:00 a.m. at St. Mary's Church of Holliston. Burial will follow in the parish cemetery. In lieu of flowers, donations in Pat's memory may be made to the Alzheimer's Association, alz.org or 309 Waverley Oaks Rd, Waltham, MA 02452. Arrangements are under the care of the Chesmore Funeral Home of Holliston, www.ChesmoreFuneralHome.com