Brian Steven Evers at 29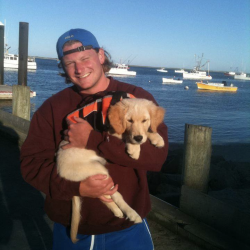 Brian Steven Evers, 29, of Holliston, passed away Saturday, January 6, 2018. Born in Newton, he was the son of Staci A. (Lindberg) Evers of Wellesley and Robert "Ace" Evers of Marlborough.
Brian, also known as "Whitey," graduated from Holliston High School in 2006, where he played football and lacrosse. He earned his Bachelor of Science Degree in Business Administration from Plymouth State University in 2011. Brian worked in construction, building homes in Portland, Maine. He was charismatic and loved by so many.
Besides his parents, he is survived by his brother Robert Leo Evers Jr., two sisters; Alison Evers and Kelly Alves; his maternal grandfather, Charles A. Lindberg and paternal grandmother, Dorothy J. Evers. He also leaves behind his aunts and uncles, Steven and Eileen Lindberg of Holliston, Cathleen Evers of Marina Del Rey, California, Gary Evers and Mark and Louise Evers of Marlborough and Matthew and Bridget Evers of Chicago, Illinois; as well as many cousins and friends.
Visitation will be held on Thursday, January 11th from 5:00-8:00p.m. at the Chesmore Funeral Home of Holliston, 854 Washington St. (Rt. 16).www.ChesmoreFuneralHome.com A funeral mass will be celebrated on Friday, January 12th at 11:00 a.m. at St. Mary's Church of Holliston. Burial will take place in Barnstable. In lieu of flowers, donations in Brian's name may be made to National Alliance on Mental Illnesses,(nami.org) or The Herren Project, theherrenproject.org