Claire Burroughs at 83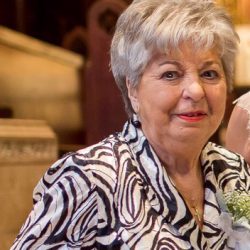 Claire P. Burroughs, 83, of Holliston, passed away Tuesday March 6th at St. Patrick's Manor in Framingham. Born in Newton, she was the daughter of the late Mary (Cornoni) and Norman Drugan. She was the wife of the late Richard Burroughs.
In her younger years, Claire worked in the banking industry. She was also a volunteer at the Metrowest Medical Center in Framingham, the Holliston Senior Center and the Holliston Library. She had also been a member of the Massachusetts Catholic Women's Guild and the American Diabetes Association.
She is survived by two daughters, Nancy Duclos and her husband Ed of Cumberland, RI, Janis Largesse and her husband Jay of Medway; her siblings, Evelyn MacDonald and her husband Tony of Framingham, Richard Drugan and his wife Lee of Bourne and her brother-in-law Bill Pickering of The Villages, Florida. She was pre-deceased by her sister Linda Pickering and her brother Dennis Drugan. She also leaves behind six grandchildren, Elizabeth, Daniel, Leslie, Eric, Jason and Nicole; her great grandchildren, Emma Claire, Aurora, Harrison and Wyatt, as well as many nieces and nephews.
Claire was a force of nature and larger than life. Each morning, she especially loved spending time viewing pictures of her favorite little person, Emma Claire on her computer. She loved a good adventure whether she was reading a book, taking a trip to the casino, playing a game of bingo or cards, shopping or traveling with her friends and family. She brought love, wisdom and laughter everywhere she went.
Visitation will be held on Friday, March 9th from 4:00-7:00 p.m at the Chesmore Funeral Home of Holliston, 854 Washington St. A funeral mass will be celebrated on Saturday, March 10th at 9:00 a.m. at St. Mary's Church of Holliston. Burial will follow in Lake Grove Cemetery, Holliston. In lieu of flowers, donations may be made to the American Diabetes Foundation, 260 Cochituate Rd #200, Framingham, MA 01701 or diabetes.org