Shirley Ann Krebs at 81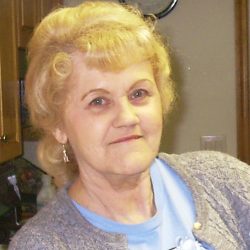 Shirley Ann (Scott) Krebs, 81, of Holiday, FL, passed away on Saturday, April 7, 2018. Born in Newton, Ma, She was the daughter of the late Mildred May (Gilkes) and Charles Fred Scott.
She was an assembler for Dennison Mfg. from the mid 1960's to 1992. She lived in Ashland, Holliston, Westborough, and Mendon Massachusetts before moving to Florida in 1995. She loved cats, collecting dolls, shopping, crafts, sewing, country music, making people laugh, getting her hair done, and always looking her best.
Beloved mother of three children, Richard Krebs of New Port Richey, Fl, David Krebs, of Dunnellon, Fl, and Linda Yednak of Shrewsbury, Ma. She is survived by several siblings and one cousin: Mildred Dias of Vineyard Haven, Ma, Nancy McGinnis of Framingham, Ma, Robert Scott of Holliston, Ma, John Scott, of Crystal River, Fl, and cousin Frances Scott of Mendon, Ma. She is also survived by four grandchildren, two great-grandchildren, and many nieces and nephews.Predeceased by her siblings Betty Scott and Charles Scott.
Visitation will be held on Friday, April 13th from 4:00-6:30p.m. at the Chesmore Funeral Home of Holliston, 854 Washington St. www.ChesmoreFuneralHome.com A funeral service will take place following visitation at 7:00p.m. Burial will take place at Oak Bluffs Cemetery in Martha's Vineyard on Saturday, April 14th at 11:00 a.m.