Gloria Nussberger at 92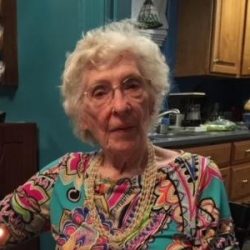 Gloria E. Nussberger, 92, of Holliston, passed away Tuesday, June 5, 2018. Born in Framingham, she was the daughter of the late Laura M. (Allen) and Clifford R. Brown. She was the wife of the late William R. Nussberger.
Gloria had been a social worker for the State of Massachusetts for 25 years. She was on the Board of Directors for 12 years at Bay Path Elder Services and was a president for most of those years.
She is survived by her children, Tanya Golding and her husband Lewis, Wendy Clayton, David Nussberger and Jennifer Nussberger. She also leaves behind her grandchildren, Laura Nussberger, Christopher and Jeremy Golding, and two great-grandchildren, Alex and Liam. She is predeceased by her siblings, Douglas and Calvin Brown and Avis Adams.
Visitation will be held on Thursday, June 7th from 4:00-7:00 p.m. at the Chesmore Funeral Home of Holliston, 854 Washington St. www.ChesmoreFuneralHome.com A funeral service will take place on Friday, June 8th at 12:30 p.m. at St. Michael's Church, Holliston. Burial will follow in Lake Grove Cemetery, Holliston. In lieu of flowers, donations in her memory may be made to American Cancer Society, 30 Speen St. Framingham, MA 01701 or cancer.org