Easy Gifts from Your Kitchen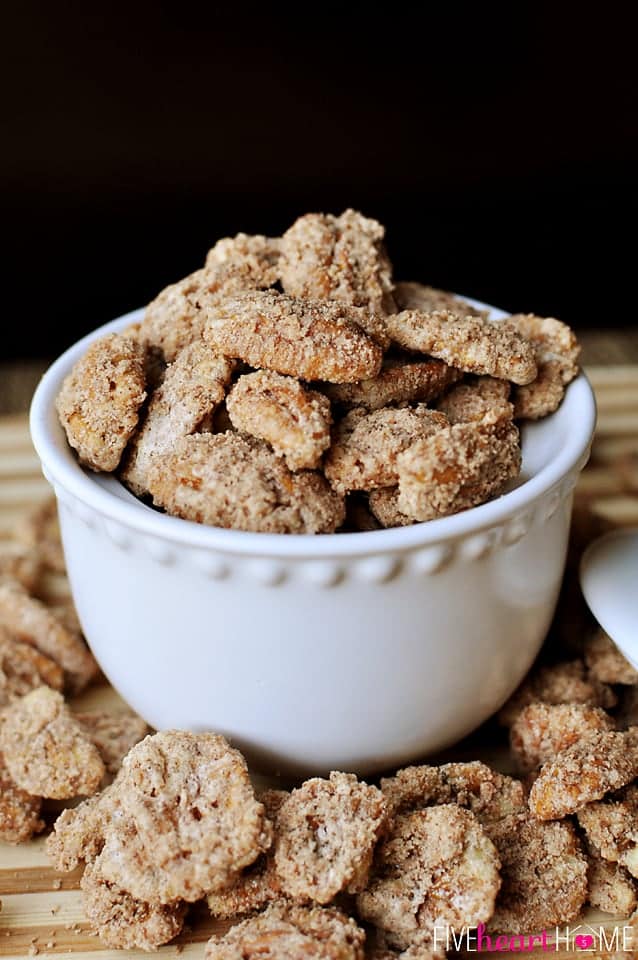 Time is running out. Hit the panic button. I have too much to do and not enough time. I am running to the store for the one item I forgot to buy and the one item that I have run out of. At the same time I am trying to deliver food gifts when I see friends so that it is not a separate trip later. Thank goodness the weather is cooperating and the remaining recipes are easy, require few ingredients, and are made in good sized batches.
This recipe makes 4 or 5 cups. I package it in small mason jars with ribbon and fabric covers. Truth be told-- I only make these so that I can enjoy them too.
INGREDIENTS:
4 cups pecan halves
1/2 cup butter
3 egg whites
1/2 teaspoon salt
3/4 cup sugar
1 1/2 teaspoons cinnamon
Preheat oven to 250 degrees. Spread nuts on a shallow baking pan and bake for 25 minutes. Remove from oven and pour nuts into a bowl. Put butter on hot baking pan tilting it to be sure it is evenly coated. Pour nuts back into buttered pan and set aside while preparing the coating. Turn up oven to 350 degrees.
Beat egg whites until foamy. Add salt, sugar, and cinnamon slowly continuing to beat the whites until stiff peaks form when you lift the beater. Pour this mixture over the nuts, spreading it evenly and coating the nuts. Put back in the oven for 35-40 minutes. (I check them at 20 minutes and mix them up to prevent clumps and bake evenly). They are "done" when they look dry and slightly brown. Allow to cool completely before packaging.
This recipe comes from a well worn recipe book entitled HOLIDAY GIFTS FROM A COUNTRY KITCHEN by Mary Reynolds Smith.