Soup is on - Meatball Minestrone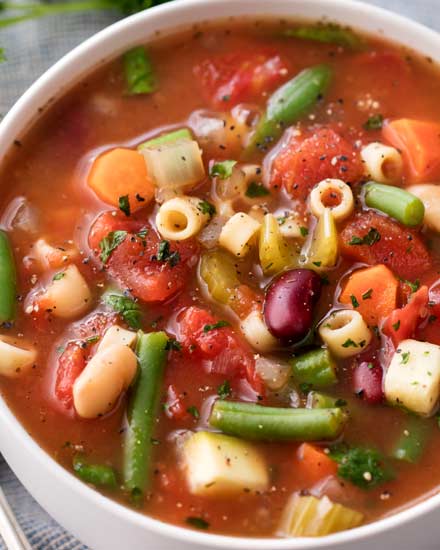 Quite a few years ago I took a class with the Montgomery county, Maryland Adult Learning Program. It was a fun way to get out for the evening and learn something something new. At the time I have to admit I didn't do much cooking beyond a grilled cheese and a can of Campbells. I spent much of my time in a commercial kitchen and I ate most of my meals at work. My food bill was low but my cooking skill level was stagnant. This recipe was one of a few in the Soups and Breads class. It is beloved by my step daughters and grandchildren.
I double the recipe for the meatballs. I use half and then freeze the other half. On one of those busy days I can grab the meatballs out of the freezer and have dinner ready in minutes. This is a quick soup to prepare and delicious with a salad or warm loaf of bread. Enjoy!
INGREDIENTS:
1/2 pound lean ground beef
2 links sweet italian sausage
2 Tablespoons bread crumbs
1 Tablespoon grated parmesan cheese
1/4 teaspoon each salt and pepper
1 egg
1/4 cup chopped onion
1 garlic clove
1/2 cup sliced carrots
1 Tablespoon italian seasoning
3 cups of beef broth (or vegetable broth for a lighter flavor)
16 oz. can diced tomatoes
1 cup tri color rotini
1 small zucchini, sliced
grated cheese to garnish
Combine beef, sausage, bread crumbs, 1 Tablespoon of cheese, salt, pepper, and egg; Form into 3/4" meatballs. Heat 1 Tablespoon of oil in a 4-6 quart dutch oven over medium heat. Cook meatballs, onion, garlic (crushed), until meatballs are brown. Drain fat.
Add remaining ingredients except zucchini and cheese. Bring to a boil. Reduce heat; cover and simmer 10 minutes. Add zucchini; cook, covered 5 minutes until zucchini is crisp tender and pasta is of desired doneness. Garnish with cheese. Serves 4-5 people.