Donald Kampersal at 88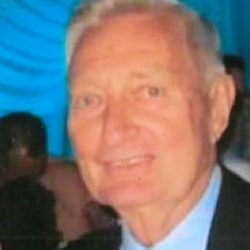 Donald H. 'Putt' Kampersal, 88, of Holliston passed away on Tuesday, March 12th, 2019. Born in Holliston, the son of the late Mildred (Kairit) and Rein Kampersal. Devoted husband of 57 years to the late Mildred (Ventresco) Kampersal and loving father of LuAnn K. Breen. He took great pride in his grandchildren, Kevin (Jenna), and Kristen Breen and treasured his great-grandsons, Colton and Weston.
Growing up he worked at the family business, Kampersal's Dairy. He owned Don's Engineering for many years and was on the Holliston Fire Department for 43 years. He enjoyed spending time with his family on the Cape and in Maine. He was known for his homemade pickles and quick witted humor.
He is survived by his brother, George, and sister, Dorothy and is predeceased by his sisters Helen Freeberg, Betty Ghelli and Ernestine Anderson and brothers Alfred, Harold, Richard and Ernest Kampersal. He is also survived by many nieces & nephews.
Visitation will be held on Friday, March 15th from 4:00-7:00 p.m. at the Chesmore Funeral Home of Holliston, 854 Washington St. www.ChesmoreFuneralHome.com A funeral service will take place on Saturday, March 16th at 11:00 a.m. at Christ the King Lutheran Church in Holliston. Burial will follow in Lake Grove Cemetery. In lieu of flowers, donations may be made to Friends of the Holliston Fire Department, 59 Central St. Holliston, MA 01746.