Heritage Recipes - 7 Layer Bars, Fondly Remembered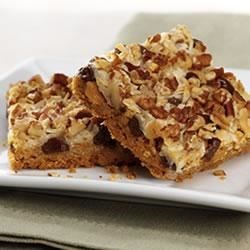 Mother's Day is May 12th. It is only fitting that I pay tribute to the many mothers in my life for it is from them that I learned the love of baking,cooking and creating. My own Mother was a master of all three. As the mother of five children in the 60s and 70s it would also be safe to say she was a commander of the budget as well. She would not like that I am highlighting her as she never enjoyed the spotlight. We never know the effect we have on our children or which of our talents are genetic. My Mom died in 2012 but it is her love of baking and gardening that continue to remind me of her daily. My youngest brother, Tommy, inherited most of the tools and has learned to perfect the art of cheesecakes and shortbread. I enjoy experimenting with a new recipe and the remaining siblings, Michael, Terry, and Bobby are always happy to be the taste testers.
We all loved desserts and sweets. I recall my Mother baking amost daily. With bagged lunches for school and dessert after dinner, a pan of brownies would easily be devoured in 24 hours or less. Even as I type that last line I am reminded that most of her recipes were from scratch, rarely from a box. Some of my favorites were her fig bars, sour cream coffee cake, and date balls. What made her such a great baker? She was always willing to try something new, always used the best ingredients and she never burned the baked goods.
My older brothers, Bobby and Michael, both served in Vietnam. Two or three times a month we would pack a box of necessities from home and mail it off. It often included books, socks and newspapers but It always included cookies. By the time I was 12 my mother allowed me to mix and bake the cookies. We would double bag and then pack them in a metal tin. What most people call seven layer bars, my family renamed "Vietnam Bars." Their moist texture often assured that they would arrive on the other side of the world relatively intact and fresh.
My favorite part was browsing through my mothers' many cookbooks and getting to choose the cookie of the week. My mother's '"hoard" of cookbooks has now become my treasure. The recipes are stained with crisco and the much used pages have become detached from the binding. Despite this the cookies still taste good. I am going to share with you the Vietnam Bars recipe. It seemed quite popular then and to my utter horror I have recently discovered friends of mine that have never tasted them. They do not require a mixing bowl and you can easily.customize according to what your preferences are.
VIETNAM BARS
ingredients:
1/2 cup butter
1 1/2 cups graham cracker crumbs
14 ounce can sweetened condensed milk
1 cup semi sweet chocolate chips
1 cup butterscotch chips (or peanut butter, white chocolate chips or toffee bits)
1 1/3 cups coconut
1 cup of nuts (I have tried walnuts, pecans, peanuts, and almonds with good results)
Preheat the oven to 350 degrees. Unwrap the butter, put in a 9x13 glass dish and put in the oven while it heats. Remove when the butter is melted. Add the graham cracker crumbs. Mix with a fork and pat into an even layer. Sprinkle chips, coconut, and nuts. Top with the sweetened condensed milk. Bake for 25 minutes.